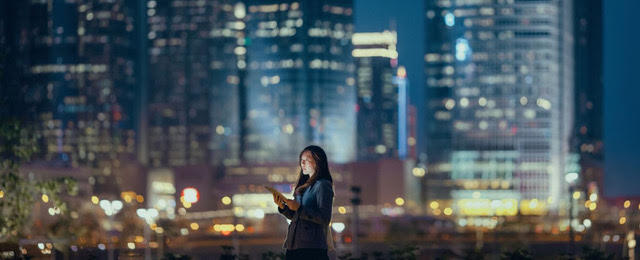 NTT DATA Japan Uses Twitter Data to Improve Future Tourism

300,000 Tourist Sites Analyzed to Support Japanese Government's Goal to Increase Tourism When Travel Restrictions Are Lifted
NTT DATA is a top system integrator (SI) in the Japanese IT market. Governments and companies hire NTT DATA to build highly customized IT systems that solve management and operational issues, and enable new technological capabilities. NTT DATA assigns a team of solution experts to work on customer's projects. Twitter has been a valued partner with NTT DATA for nearly 10 years and works to provide data analysis on tweets to support NTT DATA projects.
As a result of the unprecedented global pandemic of 2020, like much of the world, tourism in Japan has come to a standstill. The insights in this case study were surfaced pre-pandemic, however, when people are ready to start traveling again, Japan will be well-positioned to welcome tourists both local and from abroad. Given the insights derived from Twitter data, tourism is well-positioned to play a key role in the country's economic recovery.
As a country, Japan is focused on sustaining strong economic stability, and tourism is a major contributor to their economy. Before the pandemic hit, the Japanese government set a goal of 40 million foreign tourist visits annually, with an estimated tourism-related revenue of $40 billion. Most tourists visit popular landmarks in Tokyo, Kyoto, and Osaka, but officials wanted to expand tourism across the country and to more remote locations. However, there was no easy-to-access resource showcasing Japanese tourist spots. Gathering data, automating the language processing to label landmarks, and keeping this database updated was a daunting task.

NTT DATA, a multinational system integration company, aimed to become a key player to support tourism projects. The company was tasked with gathering data and providing analysis to help Japanese leaders understand where tourists were going beyond the popular destinations, and to help local leaders understand how they could promote these destinations. Key questions they needed answered were:
Where were tourists visiting in remote regions? 
Who was visiting?
What were their experiences in these areas?
Local governments needed these aggregated data insights in order to design effective tourism promotion campaigns and to improve tourism services and transportation.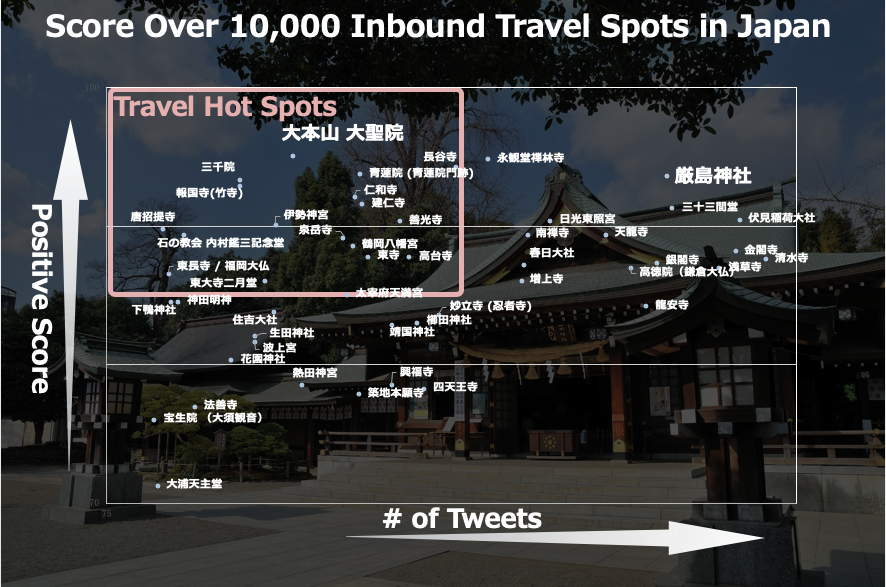 NTT DATA assembled a team of solution experts, including consultants, programmers, and project managers to tackle the challenge. By using data from the public conversation on Twitter and text analysis engineering, they were able to populate a database of 300,000 tourist spots and include answers to the key questions.
When combined with deep learning technology and NTT DATA's profile estimation engine, Twitter data played a critical role in accurately identifying and analyzing the tourist locations. This included a wide range of data including tourism practices, symbolic items, events, attractions, landmarks, food and farmer's markets, and outing activities - together providing a holistic view of what was drawing people to particular locations.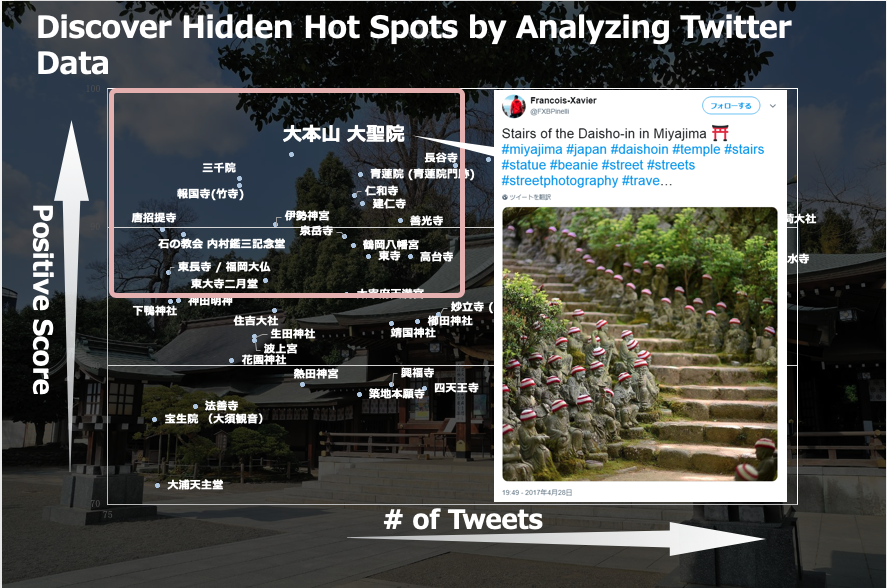 Using Twitter data, NTT DATA was able to provide information on tourism demographics, sentiment, and issues that tourists identified on Twitter that could be improved or changed to make it easier for foreigners to spend time in those locations. Local tourism authorities were then able to create targeted tourism marketing campaigns to promote these 300,000 locations and attractions.
As part of the project, NTT DATA enabled a scoring feature to analyze over 10,000 tourist spots in Japan. The chart below demonstrates the analysis of the culturally rich but virtually unknown Japanese temples.
This additional insight armed local governments with valuable new information about tourist sentiment, allowing them to improve the experience and services provided at those destinations.

The tourism desks in the local government offices faced limitations in understanding travelers' experiences. Based on the aggregated insights provided by the analysis of Twitter data, each government is now able to quantitatively understand the dissatisfaction of travelers that otherwise would not be surfaced in a traditional questionnaire, allowing them to better prioritize tourism promotion events and services.

In addition, they can now better understand the trends of travelers by region and strategically target the best possible tourism programs to specific segments of travelers. For example, using insights from the data, officials promoted some formerly obscure tourist sites to North American and European travelers resulting in doubling the volume of visitors.
NTT DATA also drew sentiment data from tweets to drive actionable insights. Tweets like the one shown above explain why and what the visitors liked about the landmarks. Over 200 local governments and private companies use these analytic insights of travel destinations to understand and improve their tourism practices.
With data from Twitter supporting NTT DATA's project, Japan is on track to promote new tourism destinations and ultimately, work toward achieving their annual goal of 40 million visitors across the country.

"Twitter data was critical in bringing the voice of the traveler to many local governments and ultimately allowed us to accurately identify and analyze 300,000 tourist locations to help improve Japan tourism."
Kyoichi Takano

Manager of Digital Marketing Group, Marketing Design Section, SDDX Division, IT Services & Payments Services Sector, NTT DATA